As part of an artist residency, Rachel de Cuba, MFA candidate at Indiana University, will exhibit her contemporary quilt pieces at the Brown County Art Walk.
About the residency
Rachel de Cuba, Digital Media MFA candidate at Indiana University, has taken on an artist residency with the Pioneer Women's Group at the Brown County History Center, where she is learning about quilting and using her knowledge to make contemporary quilt pieces. This residency and exhibit opportunity is brought to you in partnership with the Grunwald Gallery of Art and the Eskenazi School of Art, Architecture + Design.

In addition to viewing de Cuba's exhibit at the Brown County Art Walk, the public is invited to visit during her residency through May to talk about her experience with digital media and fiber arts.

Residency location and hours:
Brown County History Center, 46 Gould Street, Nashville, IN
Wednesdays 9:30 a.m.–noon and Fridays 11:30 a.m.–2:30 p.m.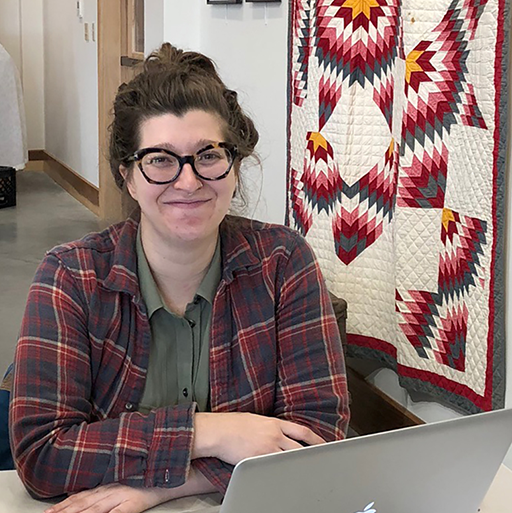 About the artist
Engaging every sense within a work, Rachel de Cuba looks to create a living extension of herself; birthing work in order to create dialogue with an audience. Incorporating a number of materials and collected ephemera she seeks to marry digital apparatuses with craft-based approaches to fibers. Rachel's research focuses on the societal impact of domestic structures on migration and citizenship in the Americas. Rachel received her BFA in 2013 from Flagler College in Saint Augustine Florida. She now resides in Bloomington with her partner, Matthew Batty, and dogs, Georgia and Jambalaya. Rachel de Cuba is completing her MFA in digital Media at Indiana University in Bloomington.